Aaron M. Socha


Co-Founder and CEO
asocha@illiumtech.com
Aaron researched the structural and synthetic chemistry of antibiotics, and in 2008
turned his attention to abundant biomolecules such as oils, sugars and lignin for renewable
energy applications. He currently directs the Sustainable Fuel and Product Development Lab
at the City University of New York where he also teaches organic chemistry and sustainability.
He has pioneered the conversion of lignin into ionic liquid solvents and currently leads the
research team of Illium Technologies. Aaron holds respective BS and PhD degrees from Fordham
University and the University of Rhode Island.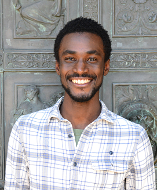 Dorian Whyte
Chief Scientist
dwhyte@illiumtech.com
Dorian's interest range from biofuels to solar/photovoltaics to organic synthesis.
He leads lignin conversion research at Illium and has expertise in analytical techniques
such as HPLC, GS-MS and Diffusion NMR. Dorian holds a BS degree in Mathematics
from the State University of New York - Stony Brook, and is pursuing graduate studies
in Chemical Engineering.